Blog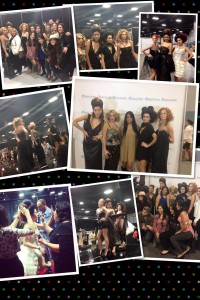 Vito Mazza was again selected to participate in the Salon Centric Beauty Expo show October 19th-21st.  This is the third consecutive year we have been selected to "rock the runway", and this year the design team pushed the bar to create a beautiful European-inspired avant garde collection.
The show took place at the New Jersey Convention & Expo Center in Edison, NJ. Opening night was Saturday, October 19 with a presentation by Rush Artistic Team straight from London.
This year's design team was a combination of seasoned session-stylists and up-and-coming talent.  Creative Director Jennifer Loprete opened the door to all stylists to showcase their talents. The team for hair was Jennifer Loprete-Creative Director, Jessica Gere, Jennifer Vargas, Lena LaMonaco, Vincent Rivelli, Sherinne Cosme, Melissa Mandella, and Rebecca Ballister. The team for makeup was Stefanie Savino and Krystin Van Anglen. Nails were designed by Danielle Lubin.
A lot of time and preparation is required to put together a collection for a hair show of this size. Models were selected in advance via a casting call. We were fortunate to have three gorgeous models that brought professionalism, beauty and true fierceness to the runway.  The design team met weeks prior to the event for brainstorming. Models were brought in one week prior for color work and manicures.
"When developing a collection you go through a process. There is one theme for this and that is all things European. We created a story board and brainstormed a few weeks before, to build what we perceive to be the forecast for upcoming trends or the feeling for the show. It's a creative process that is a true labor of love," Jennifer Loprete, Creative Director.
Each design team is paired up with a designer for the show. This year we teamed up with the talented Simone Rodrigues, CEO & Designer of Sisa Designs. She created two different collections for both runway days that ranged from avant garde gowns, corset tops and cocktail dresses.
The design team had some knowledge of the garments that the models would be wearing for the show, but not much detail. Therefore, they had to create a collection that would coincide with the clothes. Jessica Gere, Associate Designer (and last minute extra model selected personally by Simone) said, "This year's show was one of my favorites. Our team really embraced the Euro feel with keeping each style very editorial and soft. Not only was designing the looks for the show fun, but being able to portray the vision by being a model was just awesome!"
The two day showcase was an overall inspiring and creative experience for the team. They were up before dawn for model prep and stayed long hours at the expo for touch-ups, but to have a chance to create and push the envelope is what drives these artists to do what they love.
"In years past, I had been a model for the show. I much prefer being behind the scenes and had a blast working so closely with such a talented, creative and cohesive team. Ideas are bounced around, the work is fast and furious, and the end result is absolutely awe-inspiring." – Krys VanAnglen.
The team looks forward to creating a new vision and collection next October!