Blog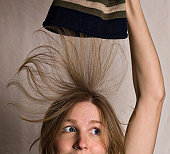 The temperature is dropping, our boots are out, we are beginning to layer our clothes and one unfortunate issue that happens during this time of year is hair static. Here are five ways to help keep static away, under control and you hair gorgeous this season.
1. Carry dryer sheets
This old wives tale is true! Use a dryer sheet over your hair when it is full of static and the sheet will calm your hair down and take it away. You may want to keep some in the office for the days you wear a hat!
2. Hairspray
For a temporary fix you can spray some hairspray on a brush or comb or on your hands and gently go over your hair to reduce the static or take it away.
3. Change your hair routine
Rinse your hair with lukewarm water and try to air dry more. If you have an ionic blow dryer this will reduce the chance of static in the hair. Hot water dries the hair out which creates more static. Luke warn water and less heat from your styling tools will keep the electricity out of your hair.
4. Extra conditioner please!
Treat yourself to conditioning treatments in and out of the salon. You can come in any time for a luxurious conditioning mask at our shampoo bar and we have masks you can purchase from Moroccan oil so you can maintain this regimen at home. Keeping your hair hydrating during a time of year that can make it dry will keep the static away and your hair looking and feeling amazing!
5. Get a 100% wool hat
If you are going to wear a hat make sure the material will keep the static charge away and out of your hair. Natural fibers tend to cause less static then fibers such as acrylic.