Blog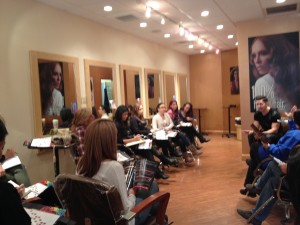 On Monday October 28th the salon team had a hands on education event to learn and use a new color line by Matrix called Colorinsider. Colorinsider is a no-ammonia, precision permanent haircolor that enhances high definition color results, but maintains the integrity  of the hair.   Gone are the days of having uncomfortable color sessions that leave your scalp itchy and irritated! This new addition to our color services is great for all color clients, but especially those who are sensitive or those who choose to use ammonia free hair color.
Colorinsider has range of beautiful color shades from rich browns, vibrant reds, gorgeous blondes and cool modern neutral tones. All offer 100% grey coverage and since there is no ammonia there is no odor when being applied to the hair! Your hair will be left looking and feeling amazing and healthy.
For more information on our new color product see one of our hair designers or book a color consultation!
Stefanie Savino