Blog
Earlier this year Matrix added a new shampoo and conditioner to the Biolage Advanced collection called Fiberstrong. As soon as we got our hands on this line we instantly fell in love. Fiberstrong is designed for weak, fragile hair and hair that goes through a lot of mechanical stress from heat and styling tools.
The shampoo is gentle on the hair but leaves it feeling stronger and looking shiny. The main ingredients are intra-cylane and bamboo extract which strengthens the hair. The conditioner is an amazing detangler and leaves the hair feeling moisturized and soft. There are no parabans and it is safe to use on color treated hair.
Any hair type can use this duo, but it designed for hair that is overworked and weak from heat and, styling tools.
Next time you are in for a cut or color you can add our new conditioning treatment from this collection to strengthen your hair. The Intra-Cylane Concentrate is a luxurious in-salon professional treatment that leaves the hair feeling up to 12x stronger and softer. This treatment conditions and reinforces the cuticle and can be used on all hair types. The cost of this treatment is $15.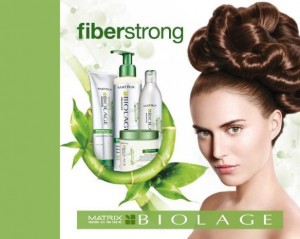 Try the Fiberstrong line and we know you will love it as much as we do. Come in the salon now through November 26th and get 15% off your Fiberstrong purchase by mentioning this post.