Blog
Oh the weather outside is frightful!! As the temperatures continue to drop lower it is important to take care of your hair more than ever. Here are some tips on how to care for your hair during these freezing winter months.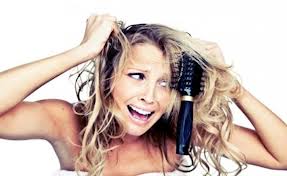 DRY AND FLAKY SCALP
A change in the weather can cause the scalp to peel. During the winter months there is less humidity in the air, which can make your scalp dry.
If the peeling is constant and you have other symptoms such as large flakes and itching you may have dandruff. If you have dandruff you will want to switch to a medicinal shampoo that will help take the dandruff away. For dry and flaky scalp you will need to provide moisture to your scalp and hair. At the salon back bar we have an amazing treatment from Moroccan Oil called the Dry Scalp treatment. This service is to be done before shampooing the hair. We apply an oil serum throughout your scalp and massage for five minutes to thoroughly coat the scalp. This treatment is then left on for ten minutes. After we shampoo and condition as normal. Many clients have made note the immediate difference in their scalp after one treatment.
FLAT / LIMP HAIR
When the temperature drops to single digits and negative numbers we have no choice but to bundle up and put a hat on. This could cause our hair to become flat and limp. Before you start layering up with all your outerwear make sure you style your hair in a way that adds body. When you wear a hat it creates heat, which will have the hair hold the shape its in. So if you styled with extra body it will hold that body even after taking the hat off. For extra volume use a root lifter such as Scruples Direct Volume. This will lock in the volume and keep your hair looking gorgeous.
STATIC IN THE HAIR
Static happens when the hair picks up an electrical charge from the dry air, which is primarily in the winter months. The winter months have less moisture in the air which makes everything from our hair, skin and nails more dry. To combat static you will need to switch to a more hydrating shampoo and conditioner, use ionic hair tools and more deep conditioning masks. You can also add a deep conditioning treatment to any hair service for an additional $15 at our back bar. These treatments will add moisture and shine to your hair and all under fifteen minutes.
DULL HAIR
Between the dry air and the rough temperatures our hair can become lack luster in the winter. Also, the combination of our styling tools , hair color and products can put a toll on our hair. You don't have to stop doing these things to your hair, but you will to be more proactive and preventive to ensure that your hair still glistens and remains healthy.
If you shampoo everyday you will need to switch to a more conditioning product to make sure you are not striping the hair of moisture. We recommend Matrix Moisture Repair Shampoo and Conditioner or Matrix Exquisite Oil shampoo and conditioner. These two products are packed with moisture, essential oils and vitamins but are still good to use on fine hair. They are conditioning, but will weightless.
If you blow dry regularly you will need to add more heat protection to your routine so prevent split ends, dryness and breakage. Mist a heat protection spray such as Moroccan Oil Thermal Protection spray on to your brush to fight off dryness. If you flat iron everyday rub regular olive oil onto the plates of your flat iron once a week to keep hair from getting too dry from the heat.
CURLY HAIR PROBLEMS
Most curly haired vixens like to style their curls when they are wet. However, during this time of you try not to leave with wet hair because the dampness will turn your curls hard and stiff. When styling squeeze out excess water with a towel and then flip your head over and use a diffuser. Even if you did this for just five minutes you will see the difference with your curls and they will not lock up once you get outside.
Celebrity stylist and curly hair expert Quidad advises the following for getting the most out of your curls during the winter months:
60 Degrees and Above: You're good with gel. Choose a moisturizing formula with botanical extracts that works with the humidity to hold the shape of your curl.
59 to 41 Degrees: This is the best temperature for curls. Go for a non-silicone-based gel or mousse
40 Degrees and Below: Curls can go stiff unless you choose a styler that softens. Pick a moisture-rich conditioning creme.
Most importantly is to keep your tresses hydrated. Make sure you are drinking plenty of water, taking your multi vitamins and/or supplements and most importantly using products that will provide your hair nourishment and heat protection. Stay warm !!
**Interested in any of the products mentioned in this week's blog post? Mention this blog and receive 20% off***