Blog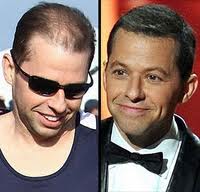 A third of men lose their hair by the age of 30 and two-thirds by the time they're 60-but baldness can be an issue for some people.  Two Hollywood actors have recently come clean about their use of instant cures.
First Jon Cryer, 48, the star of US sitcom Two and A Half Men, Revealed that what viewer see on screen is an 'elaborate illusion' that involves coating his scalp with Bosley Hair Thickening Fibers  to eliminate the appearance of baldness and thinning hair.  Then Seinfeld actor Jason Alexander, 54 tweeted that he'd had a hairpiece fitted.  Public reaction was overwhelmingly positive-not just because of their honesty, but because of how great their hair looks.
The days of cringingly obvious wigs are long gone-modern fixes are highly effective.  But with hair transplants being expensive, what are the other options for hiding thinning hair and baldness?
FEELING SWELL
WHAT IS IT?
Many shampoos claim to be volumising but these penetrate each individual hair shaft thanks to the protein in the solution.  This reacts with heat causing the shaft to swell, thickening every strand and helping cover up a scalp with thinning patches.   In the market for a thickening shampoo?   We recommend Bosley   Revive Shampoo & Conditioner For Visibly Thinning hair.
HOW IT WORKS
Volumising used to just be a marketing term but these do seem to have a real effect.  They are easy to use and inexpensive.
HAIRY MOMENTS?
There's  a limit to how much a shampoo will help- it's more useful for those with thinning locks rather than those with advanced baldness.  You need hair to be able to 'volumise' it!  Don't expect to use these a few times and suddenly look like you have a full head of hair.  Don't over use wither as it can make hair very brittle.
21st CENTURY TOUPEE
WHAT IS IT?
No one in the business says wig or toupee-the preferred term is now 'hair replacement system'.  The (usually human) hair is attached to a micro-thin, translucent plastic membrane, placed on a shaved scalp (or part or the scalp which needs covering) and fixed using a bonding agent.  This can be kept on for weeks or months at a time.
HOW IT WORKS
'A client comes in for a free private consultation and discusses their needs, then we look at their hair and find the right piece for them,'  explains Rich Mele Director of Thinning Hair Solutions by Vito Mazza Salon.  Once fitted, hair systems are fairly durable and need not inhibit day-to-day activities.
Even at the front you can's see or feel that it's anything other than your own "hair".  It's suitable for most people,  most hair types and colors, and most levels of baldness.
TRY:   www.thshair.com