Blog
We all want to look younger. To achieve that, we invest our time and money on facials, serums, boosters, etc. and the payoff is younger, more radiant skin. Can you say that though about the rest of your body? We tend to pay so much attention to our face and then all of a sudden our neck and skin on the rest of the body gives away our age! Sure there are lotions and scrubs that we can use in the shower-but are they really preventing and repairing aging skin?  If you are using the Vita Cura Body Collection from Repechage then the answer is YES!
I have always used scrubs and lotions because of the pretty scents or novelty ingredients and, sure my skin was soft however, they didn't turn back the clock on aging. Not until I starting using the Nutri Crème and Nutri Oil from Repechage did I start seeing a significant difference. I decided to apply both to just one arm this summer to see if these products lived up to their hype. After a few weeks I noticed younger, more refined, healthier skin!  (See the picture below-those are my arms after the "challenge". Notice that one has some redness and bumps while the other is more even toned and smooth)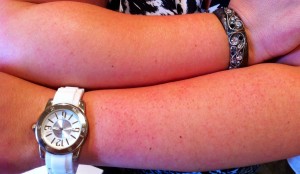 The Nutri Creme contains EcoCert seaweed extracts (loaded with 18 amino acids, 12 vitamins and 42 trace elements and minerals) glycolic acid and Aloe Vera that smoothes the appearance of wrinkles, restoring elasticity, revealing a more youthful appearance.
The Nutri Oil contains Beta Carotene and Vitamins A & E that provide antioxidant protection and restores skin vitality. This oil is quick absorbing and non greasy so your skin feels incredibly smooth. There is a light scent of Vanilla and Rooibos that seems to calm-which is an added bonus!
These two products have become my favorites for anti-aging from the neck down! Try them for yourself.  Purchase one and get the other for 50% off.  I guarantee that you will love the way your skin looks and feels!
Enjoy! Christie